Individual Provisions of the American Rescue Plan Act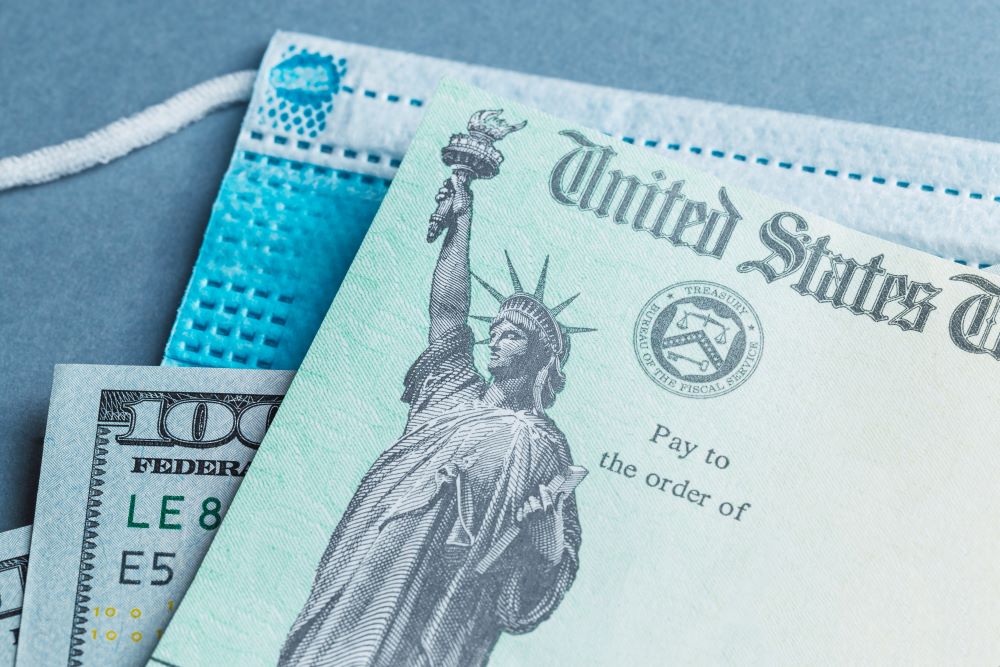 As the COVID-19 pandemic continues to persist, many families and individuals remain financially challenged. While there is positive pandemic news arising from vaccination efforts, the economic data, including unemployment, reflects the long recovery journey on the horizon. It was recently reported unemployment in New Jersey is currently 7.6%, while Pennsylvania is slightly lower at 6.6%. It is against this backdrop that on March 11th, President Biden signed the American Rescue Plan Act of 2021 (ARPA), into law.
The $1.9T relief legislation provides several provisions to benefit individuals. These include economic stimulus payments, extended unemployment, new subsidies, and increased tax savings through the expanded child tax credit, and more. While the benefit depends on meeting certain income thresholds, it is expected families will now receive the financial boost to carry them to the end of the pandemic. To help clients, prospects, and others, Klatzkin has summarized the key points below.
Economic Stimulus Payments
An essential component of ARPA for many is the economic stimulus payments. The third-round payments are the highest yet, with many adults and dependents set to receive $1,400 each. This marks a Biden campaign promise of issuing $2,000 per person – the $1,400 is meant to be in addition to the $600 payments sent out at the end of December 2020, through the Consolidated Appropriations Act of 2021.
Income limits are lower than before as individuals making $80,000 or more do not qualify since the phase-out begins after $75,000 in adjusted gross income. Taxpayers who file jointly will begin to see their check amounts phase-out starting at $150,000, and payments will stop entirely for married couples making $160,000 or more a year. Heads of household begin the phase-out at $112,500, and the phase-out ends with an adjusted gross income of $120,000 or more.
There are a handful of changes to eligibility in this slate of payments compared to the first two.
Dependents of any age qualify for $1,400, provided the household income is below the phase-out threshold. This opens up eligibility to around 13.5 million older dependents.
If the household income is higher than the phase-out limit, there will not be a payment for qualified dependents (a departure from the Consolidated Appropriations Act).
Mixed status citizenship households qualify, provided household income is under the phase-out limit, and at least one taxpayer or their child(ren) has a social security number. For instance, noncitizen parents with citizen children qualify.
Since payments are based on the most recent tax return on file (for most, this is 2019), parents who gave birth to or adopted children in 2020 can file for a recovery rebate credit on their annual taxes. Payments are already going out via direct deposit, though the IRS has until December 31, 2021, to issue all checks.
Unemployment Benefits 
ARPA also extends federal unemployment benefits to September 6, 2021, at a rate of $300 per week. Although lower than initially proposed, there is a new benefit: the first $10,200 in unemployment benefits are non-taxable for households making less than $150,000. The change is retroactive to 2020, so if taxpayers that meet eligibility criteria already filed, an adjustment will need to be made.
With that in mind, the IRS urges taxpayers not to file amended returns right now and instead wait for further guidance to be issued by the IRS.
Federal unemployment benefits are also now eligible to individuals for up to 79 consecutive weeks, increasing from the previous 50 weeks.
Child Tax Credit
The Child Tax Credit received a significant boost through the American Rescue Plan Act. In 2020, families received a credit worth up to $2,000 per child under the age of seventeen. Income phase-out limits were high; $400,000 for married filing jointly and $200,000 for all other taxpayers.
For 2021, the Child Tax Credit is worth up to $3,000 per child ages six through seventeen, or $3,600 for children ages six and younger. The Act authorized monthly payments that equal 50 percent of the credit beginning in July, so taxpayers do not have to wait until they file their 2021 return to claim the full benefit. In the coming weeks, look for a new portal on the IRS website outlining how taxpayers can claim monthly payments. Conversely, taxpayers can also elect not to receive monthly payments and instead claim the total amount in 2022.
There is a catch: the income phase-out limits are much lower. Like the stimulus checks, the total amount of the 2021 Child Tax Credit begins to phase out at the same limitations: $150,000 for married filing jointly, $112,500 for the head of household, and $75,000 for single taxpayers. Taxpayers that exceed these income limits are still eligible for the Child Tax Credit based on the 2020 provisions with a credit up to $2,000 per child.
It is expected that Washington will attempt to make the Child Tax Credit permanent, but for now, the expanded benefits are for 2021 only.
Additional Benefits for Individuals
Student Loan Debt Forgiveness 
ARPA did not contain a forgiveness provision for federal student loans. However, it did change how taxes are assessed on any forgiven amounts. Student loan debt that is forgiven between January 1, 2021, and December 31, 2025, is non-taxable. This is important because customarily discharged debt is treated as a taxable event. Any forgiven debt is added to taxable income for the year, triggering a potentially hefty (and unexpected) tax bill.
Earned Income Tax Credit
This credit is designed to provide support to low- and middle-income taxpayers equal to a percentage of earnings. ARPA raises the maximum credit amount for adults without children from $543 to $1,500 and lowers the eligibility age for taxpayers without children from 25 to 19, except for full-time students. The upper age limit of 65 was eliminated. Also, the rule prohibiting taxpayers from claiming children without a social security number has been eliminated. Finally, separated couples can now claim the credit, assuming they live with their child for more than half a year.
Dependent Care Credit 
This credit is designed to help taxpayers who pay out-of-pocket expenses to care for a qualifying child or a disabled dependent while working or looking for work. ARPA now makes the credit refundable, increases the maximum allowable costs to $8,000 for one dependent and $16,000 for two or more. Also, the credit has been expanded to cover 50% of qualifying expenses.  Therefore, the maximum allowable credit has been increased to $4,000 for one qualifying child and $8,000 for two or more, subject to income limits.
Affordable Care Act Premium Subsidies 
ACA premium subsidies have been expanded for households making above 400 percent of the poverty line (for a single taxpayer, this is around $51,000 annually), with increased financial assistance for taxpayers between 100 and 400 percent of the poverty level. Most people enrolled in the healthcare exchange will see lower premiums and/or afford lower deductible plans.
Additionally, if a taxpayer receives unemployment benefits at any point in 2021, the taxpayer and any eligible dependents could receive health insurance in exchange for a zero-dollar premium. These changes are in effect for 2021 and 2022.
COBRA Subsidies
From April 1, 2021, through September 30, 2021, anyone who becomes eligible for COBRA health benefits – these are workers who are laid off, furloughed, or involuntarily working reduced hours – may be eligible for $0 COBRA payments. This means that eligible taxpayers can continue to purchase group healthcare benefits without the burden of COBRA premiums. It is important to note; it does not apply to anyone who voluntarily left their job or was terminated.
Contact Us
The individual provisions contained in the American Rescue Plan Act offer welcome relief to those facing continued challenges. Given the complexity of the changes, it is essential to consult with a qualified tax advisor to determine how the ARPA will directly impact your situation. If you have questions about the information outlined above or need assistance with a tax or accounting issue, Klatzkin can help. For additional information, click here to contact us. We look forward to speaking with you soon.
©2021 Klatzkin & Company LLP. The above represents our best understanding and interpretation of the material covered as of this post's date and does not constitute accounting, tax, or financial advice. Please consult your advisor concerning your specific situation.