New Jersey Use Tax
Have you made any large out-of-state purchases for yourself or your business this year? If so, you may have to pay New Jersey Use Tax. Use Tax applies when a purchase is made outside of New Jersey (be it online or via mail) for use in New Jersey and is taxed at the same rate as New Jersey sales tax: 6.625%. The tax is owed to New Jersey when no tax is collected or a tax rate lower than New Jersey's sales tax is paid at the time of purchase. If tax was paid at a higher rate than New Jersey's sales tax rate to another state, there is nothing to worry about; no Use Tax is due to New Jersey.
The most common instance where Use Tax is owed is when purchasing a vehicle out-of-state. However, Use Tax can also apply to out-of-state repairs on goods, furniture purchases, equipment, business supplies, and electronics.
New Jersey does allow some exemptions for Use Tax, which are listed below.
Clothing and unprepared food
Received an item, such as a vehicle, as a gift
Purchase was made while the user was a nonresident of New Jersey
Raw materials which become part of another product produced for sale
Paper used to publish newspapers and periodicals
Most services (enumerated services not included)
Mobile homes, such as RVs, campers, and trailers
Disabled veterans if funds received from the Veterans Administration are used for the purchase
Paying Use Tax
Businesses pay Use Tax via Form ST-18B, which applies if:
The company did not sell taxable goods or services or lease the taxable property to others during the year.
Averaged less than $2,000 in annual Use Tax liability in prior three years; and
Owes Use Tax for the current year.
Please note that if you do not meet the above criteria, you cannot use Form ST-18B, and you must amend your business registration to include the quarterly or monthly Sales Tax filing.
Individuals report and pay Use Tax due for purchases made in the current year when filing your New Jersey Income Tax Returns.   Make sure your purchase is documented by keeping your receipts. If you are unsure of your purchase's exact amount, you can refer to the Estimated Use Tax Chart* below for guidance on the amount to report.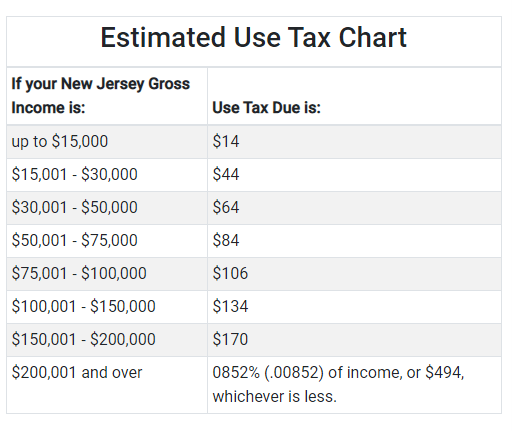 *Source: New Jersey Treasury – Division of Taxation  
If you do not file a New Jersey Income Tax Return, or you would like to pay Use Tax soon after you take possession, you can remit Use Tax using Form ST-18.
Despite 27 states having a dedicated line item on tax returns for reporting Use Tax owed, roughly only 2% of taxpayers report it. While it's much more challenging to enforce Use Tax compliance for individuals, states look to businesses because their tendency to overlook Use Tax makes it their number one audit risk. So, make sure you or your company comply.
Contact Us
If you have any questions regarding the information outlined above or are unsure whether you owe Use Tax, Klatzkin can help. Click here to contact us. We look forward to speaking with you soon.
©2021 Klatzkin & Company LLP. The above represents our best understanding and interpretation of the material covered as of this post's date and does not constitute accounting, tax, or financial advice. Please consult your advisor concerning your specific situation.