Key Details of the American Families Plan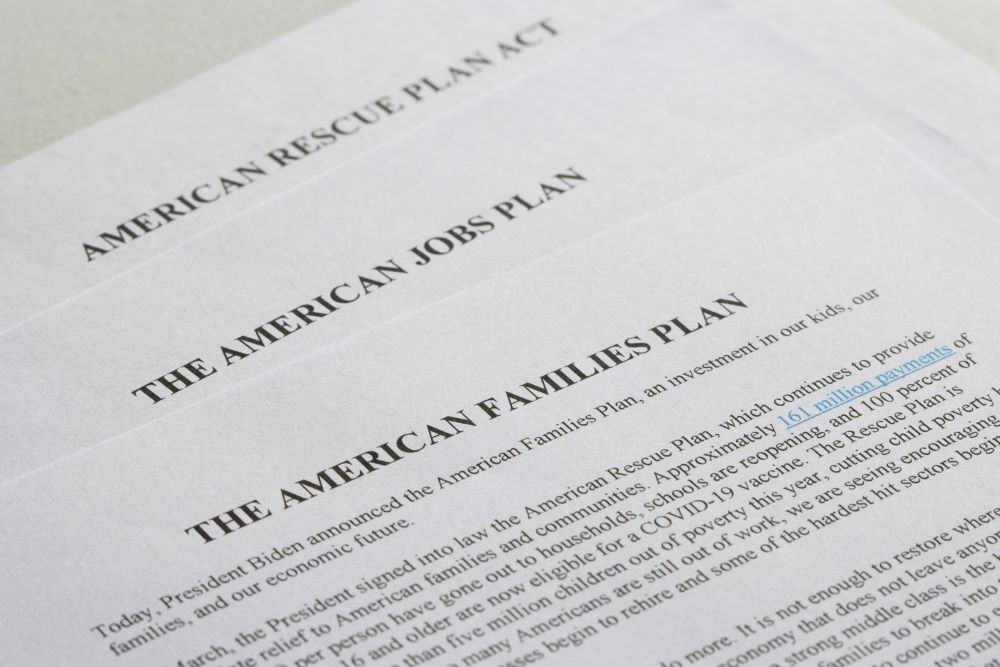 On April 28, 2021, President Biden formally unveiled the next phase in his planned economic recovery package, the $1.8T American Families Plan (AFP). Together with the American Jobs Plan, the AFP is described as a "once in a generation" investment in the diverse needs of American workers and families. It includes expanded funding for education, modernization of the unemployment system, expanded education and childcare tax credits, enhanced paid sick leave, and other worker benefits.
The AFP will primarily be funded by tax increases targeting the wealthy and includes an increase in the capital gains tax rate, limitations on 1031 exchanges, and expanded IRS enforcement efforts. Right from the start, it appears there will be significant hurdles to overcome as the AFP is negotiated in Congress. However, it does provide insight into how taxes are expected to change soon. This blog post summarizes key components of the AFP that may be important to our clients and prospects.
Education
The AFP proposes substantial investments in both early childhood and post-secondary education. Key provisions include universal free preschool for three and four-year-olds, two years of free community college, and two years of subsidized tuition for students of Historically Black Colleges and Universities (HBCU), Tribal Colleges and Universities (TCU), and other Minority-Serving Institutions (MSI). To qualify for subsidized tuition, students' families would need to earn less than $125,000 per year. It is unclear if partial subsidies would be offered. Funding includes $220B for preschools, $109B for community colleges, $80B for Pell Grants, $62B for retention and graduation at community colleges, $46B for tuition assistance at HBCUs, and $9B in additional teacher training.
Children and Families
The most significant item impacting taxpayers with children and families is introducing a phased-in paid FMLA leave. Over ten years, the federal FMLA program would guarantee 12 weeks of paid leave worth two-thirds of pay up to $4,000 per month; low-income workers would be eligible for up to 80 percent salary replacement. Eligible paid leave could be taken for the birth of a child, adoption, a spouse's military deployment illness, or the death of a loved one.
Other big-ticket items are extending or making permanent several tax credits, including:
Child Tax Credit: Extend through 2025 and make it permanently fully refundable. The AFP seeks to implement regular payments to families claiming the child tax credit, similar to the details outlined in the American Rescue Plan. Proposed credit amounts would equal $3,600 for children under six and $3,000 for children over age six. 17-year-olds would be eligible for the first time. The Child and Dependent Care Credit would remain up to $4,000 per child or $8,000 for two or more children for families earning $125,000 or less. Partial credit would be available for families earning between $125,000 and $400,000.
Earned Income Tax Credit: Permanent for childless workers.
Child and Dependent Care Tax Credit: Permanent
Affordable Care Act Premiums Reduction: Permanent
Other proposals include:
Modernizing the federal unemployment system
Providing free food to children over the summer
Expanding school meal programs
Providing SNAP benefits to former inmates whose conviction was a drug-related felony.
Funding includes $225B for paid leave, $200B for ACA premium tax credits, $45B for additional SNAP benefits for children, and $2B to modernize the federal unemployment insurance system.
Financing the American Families Plan
As expected, financing would primarily come from raising taxes on wealthy taxpayers and businesses. For now, the proposal is to:
Raise the top income tax rate from its current 37% to the pre-Tax Cuts and Jobs Act rate of 39.6%.
Raise the top capital gains tax rate to match the highest income tax rate (39.6%) for households making more than $1M.
Eliminate the step-up in basis upon death for gains over $1M ($2.5M for couples)
Close the carried interest loophole.
Eliminate tax-advantaged 1031 exchanges for real estate gains greater than $500,000.
Make permanent the limitation on excess business losses.
Extend the 3.8% Medicare tax to all high-income taxpayers making more than $400,000 per year.
Increase IRS enforcement for wealthy taxpayers.
Contact Us
As the AFP was just introduced and details continue to unfold, we will monitor its progress and update accordingly. If you have questions about the information outlined above or need assistance with a tax or accounting-related issue, Klatzkin can help. For additional information, click here to contact us. We look forward to speaking with you soon.
©2021 Klatzkin & Company LLP. The above represents our best understanding and interpretation of the material covered as of this post's date and does not constitute accounting, tax, or financial advice. Please consult your advisor concerning your specific situation.